I guess it has been a while since I last posted. And by that, I mean months. Oops. I'm busy. Really busy. I thought homeschooling would lead us to a more simple life. Instead, we are going from Cub Scouts, to 4-H, to church, to visit friends and family, and on and on and on. Add that to schooling and caring for the kids, home, and animals, I'm a busy mama. But I guess, this is the time of our life. I wouldn't change a thing.
Our family just got home from our very first real vacation. We've only been camping or in a cabin or visiting family before. So this was different. And big. We did our first vacation in a BIG way. We spent 11 days in Orlando at Disney World, Lego Land, the beach, Ripley's, and swimming. It wasn't all fun and games, Lena became really sick during our trip and landed herself in the ER, but after she got better, we had a lot of fun.
DAY ONE:
We packed our bags, and left our house around 5 pm on April 15. Our plan was to drive through the night so the kids would sleep most of the time. Great plan. Except the night before Lena started running a fever and threw up once. On our way out of town, we stopped by urgent care at her pediatrician's, and had them take a look at her. They decided it was teething, but gave us an antibiotic in case she started pulling at her ears or anything. He gave us the all clear to head on down a have a good time. So off we went!
Driving through the night was a great idea in theory, but with a sick and fussy baby who isn't a great sleeper to begin with, it was torture. She cried and fussed 85% of the drive. The other kids did great, sleeping most of the time and watching DVDs the rest.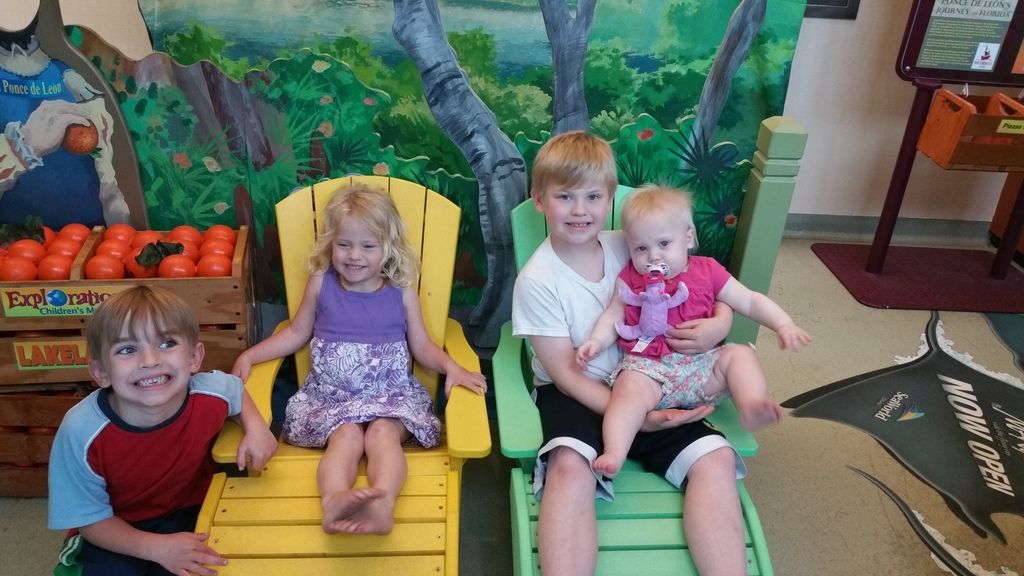 We got to our hotel around noon on the 16, and they allowed us to check in early, which was wonderful! I have nothing but great things to say about the hotel. We stayed at the Royale Parc Suites (Quality Suites) in Kissimme, FL. It was clean, family friendly, and very nice for a budget hotel. That evening, Lena seemed to feel better, so we went to Downtown Disney.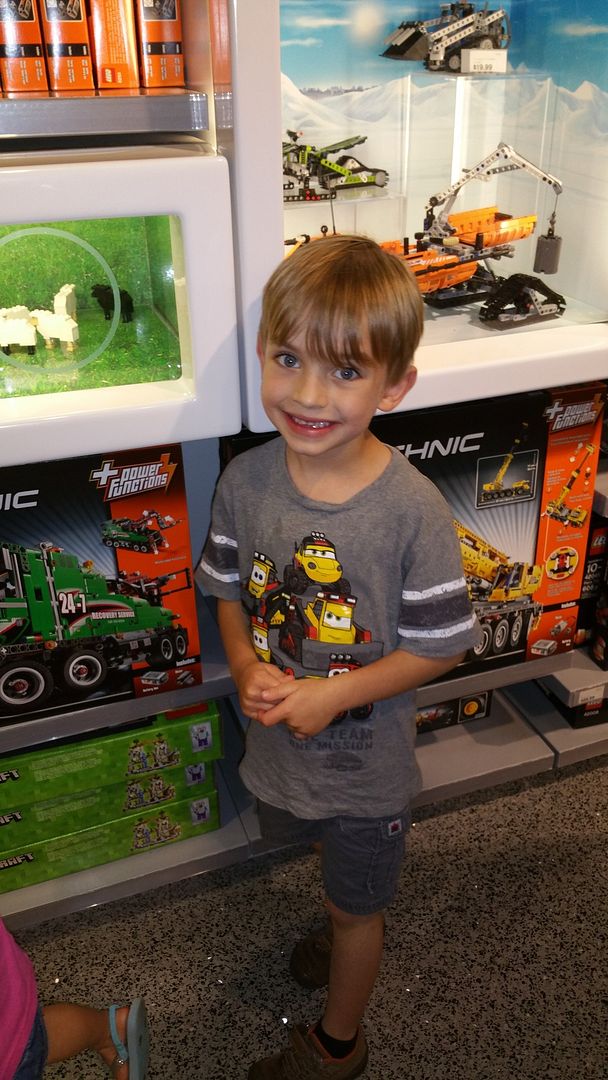 Parker was having the time of his life in the Lego Store, you could see his mind working on all the new things he could build.
Can you guess which one belongs to which kid?
DTD was nice, not as great as I expected. It was pretty overpriced and under tons of construction. We stopped at Candy Cauldron and the kids got character cookies and Sam and I shared a Mickey cookie. We then window shopped a bit until we got to the Lego Store and the kids loved it. Especially Parker, he was in his element! Prices weren't too bad, I may even hesitate to say, they were cheap (for Legos). They had build your own mini figs 3 for $9.99, so each of the big kids built their own mini fig. After the Lego Store, we walked around some more and found the dancing waters, and since we were getting ready to leave, the kids played and got soaked. Lena started fussing really badly, so we came back to the hotel to get ready for bed.
All the dancing water pics are terrible, the kids were running around like crazy.
DAY TWO:
That evening and night, Lena got worse, she started throwing up and refusing to eat as well as running a fever. After being up all night with her, we pushed our first Disney day back and tried unsuccessfully to find a doctor to see her. Our insurance would not cover any convenient care down there except Walgreens or CVS, unfortunately, they wouldn't see her because she was younger than 18 months old. Again, I called her pediatrician, and asked for zofran to get her hydrated, she refused and again said it was teething or a bug and she would be better by the next day. So instead of Disney, we went grocery shopping, got the kids' some souvenirs, and then went back to the hotel and I took the big kids swimming while Sam stayed with Lena in the room.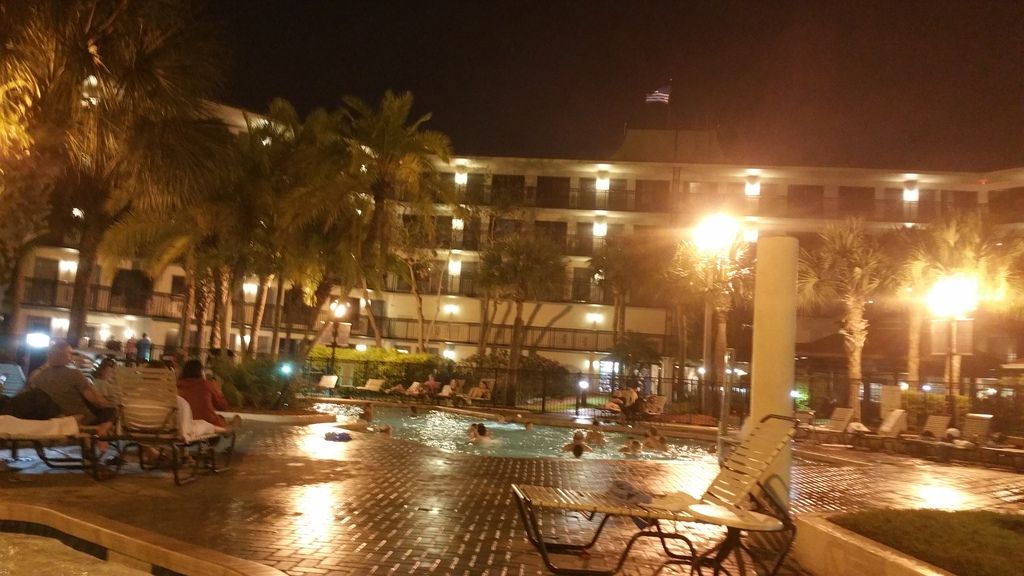 View of our hotel courtyard
Our hotel had a kiddie pool, plus a big pool which was awesome for this mama!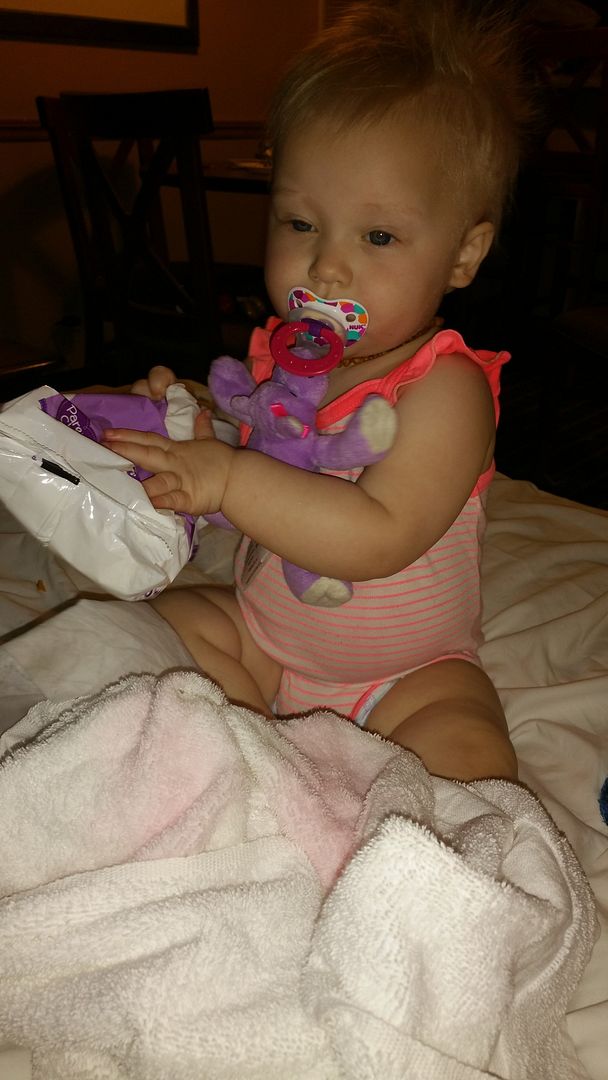 Sick baby Lena.
Check out
Day 3!