Happy Halloween to my readers!
Today we had an easy day with school so that we could have our own little party after lunch.
I made the kids dirt cups. Chocolate pudding with crushed up Oreos and gummy worms.
I also made them the pretzel, kiss, and candy corn treats.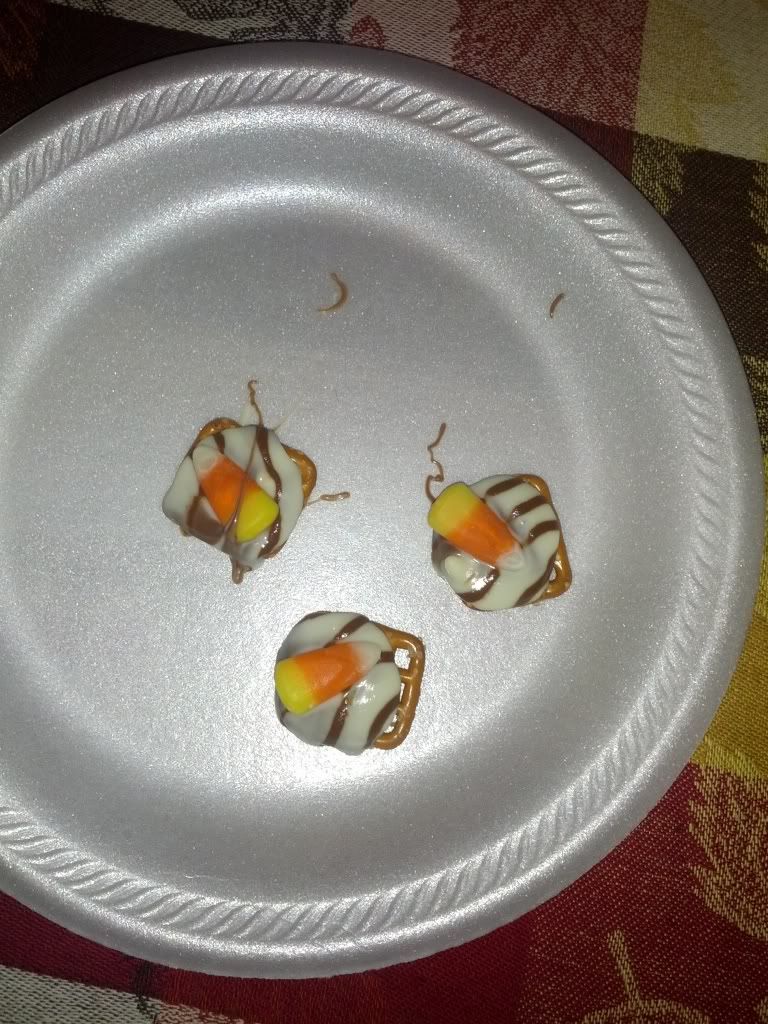 And the surprising big hit, was pumpkin slime. It is really easy to make, I wanted to make regular slime, but our grocery store didn't have any lemon-lime kool-aid today, so I went with orange instead, and changed it to pumpkin slime. First you jello according to the package, while you are waiting for the water to boil, mix together a half gallon of water with two kool-aid packages, then fill up the rest of the gallon with a white soda. After the jello is made, add that to the drink, stir and add sugar to taste. After it sits for a while, it will become thicker and very slimy. If you want it to be slimier, you can add less water/kool aid/soda OR add another package of jello. I put it in clear cups that I had used a marker to draw pumpkin faces on.
After our snacks, we danced to the Hokey Pokey, Chicken Dance, Monster Mash, and a few others. No pictures of that since I was getting in on the fun too.
We then headed to my step dad's for Trick or Treat, then to my Dad and Nanoo's. We then came home and picked up Sam and headed into town for a rainy Trick or Treat. We only went to the fire station and to Trunk or Treat at the church before we got to cold and wet. The kids had a good time and we came home wet and happy, they got to eat a few pieces of candy and then headed to bed.