That's right, our family is growing by 2 feet. Our newest addition is set to arrive sometime toward the end of May.
This has been almost a year in the making. In fact, we had been trying for a baby long enough to have had one and be pregnant again. I was beginning to think it wasn't going to happen.
We had been using natural family planning for 2 years, since Alta was a baby. And when we decided to start actually trying, I started charting my cycle. I thought it would take a month, maybe two. In fact, I joked with some friends that I would be pregnant before we started trying because it was always that easy for us.
And then the first month came and went. No baby. The second month, no baby. I was still optimistic. Still certain a baby was coming. By the third month, I was in tears every month. I was starting to think we weren't meant to have another baby. By June, I called my doctor and had an appointment set up for August 15.
August came and Sam went away for training, and I rescheduled my appointment for September 19. Alta had her check up on the 15, and besides, what good would it do to go to the doctor when Sam was away? I obviously needed him to make a baby.
September 12, my mother in law and kids were heading up to Springfield to watch Sam graduate from his training. I hadn't been feeling great the last few days before then and was extremely tired. I knew I had one more First Response pregnancy test, so I went ahead and tested. And it was positive. And I cried and cried and cried some more. I couldn't believe it.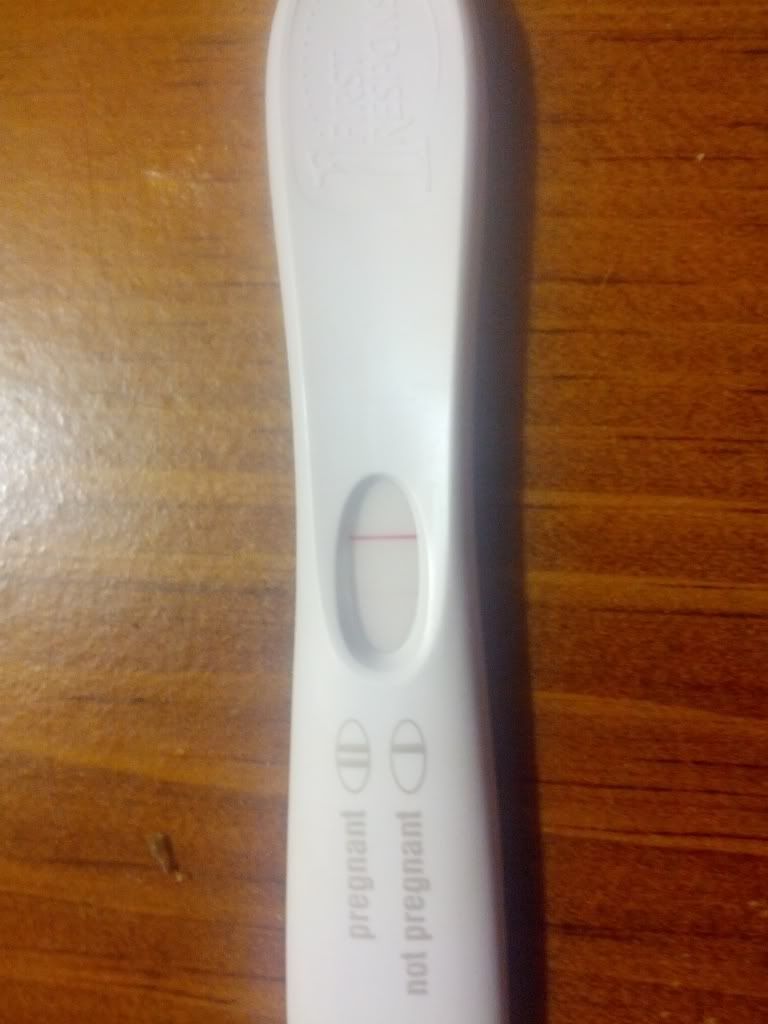 My first test, it was very early and the line was very faint, but a line is a line!
So in a happy daze, I finished getting everyone ready and we headed up to Springfield. Sam had no idea, and I wasn't able to talk to him until the following day.
In my past pregnancies, I wasn't able to announce it to him really. With Landon, he came home from work as I was getting up, I took a test and he had already fallen asleep, so I woke him up with a frantic, I'm pregnant! With Parker and Alta he was with me while I was taking the test.
I knew I wanted to do something special. Eventually I settled on getting him a congratulations card and in it I wrote "I am proud so proud of you, so I got you a gift. Unfortunately, it is still being made and is set to be delivered May 26, 2014."
Reading his card
I also put a newborn sleeper in a bag for him.
We thoroughly enjoyed his graduation and the mini-vacation. But as soon as we got back, I had to take another test.